Buying Wholesale Hookah Tobacco....How to get the right shisha for your retail business
It seems so simple, buy low and sell high. Well, when it comes to wholesale shisha, there is a lot m...
It seems so simple, buy low and sell high. Well, when it comes to buying hookah tobacco wholesale, there is a lot more to it. Things to consider are which brands do you want to carry and why. What about sizes? Should you stock the 50g, 100g, 250gs or Kilos...or all of them...or just some of them? And don't get me started on flavors! Some of these hookah tobacco companies produce 50 flavors or more. So when you ask yourself who should I buy from and what should I buy, the answer can be complex. In this article we will offer suggestions for businesses looking to start or restructure their hookah tobacco inventory.
That said, let's sort this all out.
First of all, let me ask you...Is your business going to be a hookah destination, known for carrying a wide variety of hookahs, shisha and accessories? I am talking about a place where hookah fanatics will go to "oohhh and aawww" over your selection and product knowledge. On the other hand.... Do you want to carry the hookah essentials, a tighter selection of the "must haves" that hookah smokers can count on to buy what they need most of the time and not dedicate too much time, space and energy being the market leader in hookah? Think of it as being a full service liquor store with hundreds of speicialty beers and micro-distillery labels vs a corner store that just sells 3 brands, probably just the national best sellers. Customers like to shop at both types of establishments for different reasons, so how you position yourself in the market will dictate what customers you attract.
There is no right answer, but depending on what you want to accomplish with your hookah clientele should inform your decision on what to carry and how much to carry.
Hookah Business Starter Packs for a Tight, Fast Moving Inventory
So let's start with keeping a tighter selection of the essentials if you want to capture hookah sales without dedicating a huge space to shisha tobacco. If this sounds like your operation, here is our recommendation of how to offer a streamlined inventory, while still being a relevant hookah retailer that can attract and keep hookah customers. Keep it simple and stick to the Big 3 of shisha tobacco in today's market. Al Fakher, Starbuzz and Fumari are eating the lion's share of shisha sales, so you need these to survive.
As Al Fakher distributors, we know that this brand is an absolute must. Al Fakher dominates the market and not having it in your store will be suspect to any hookah customer. Not having Al Fakher would be like a McDonald's that doesn't sell Big Macs. Al Fakher produces over 50 flavors with all the essentials; mint, melon, blueberry, peach, pineapple, cherry, double apple and the list goes on. You should stock 10 flavors, and we happen to have a list of the best sellers in descending order that will give you the perfect starting point. Pick up Al Fakher in 50g cartons in the top 20 flavors and the top 10 sellers in the larger 250g tubs. You may find that your customers are requesting a few flavors outside our best-sellers list, and that is perfectly natural. As you develop your customer base, the sales for every store will vary slightly.
Next you will want to carry one or both Starbuzz and Fumari. These are the top selling, American style shisha, with more exotic blends, some of the most famous being Starbuzz Blue Mist or Fumari White Gummi Bear. These brands come in over 50 flavors each, but we have a great resource for stocking the best selling flavors of Fumari and Starbuzz, so you can get the started with proven winners and adjust to your customers from there. Again, we recommend carrying the top 10-20 of each to give your customers enough choice that they feel like your store will fit their needs 95% of the time they need to make hookah purchase.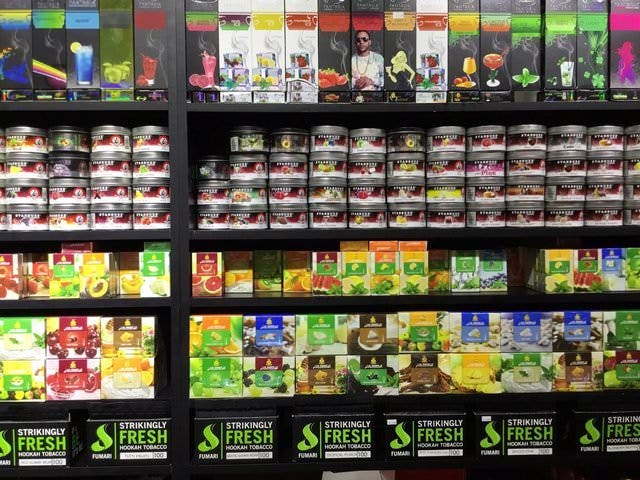 Here's picture of a retailer following the formula perfectly. They have 4 off the big national brands, 15 - 20 flavors of each. Most hookah shoppers can find what they want easily and count on this store to have it in stock.
To sum up, here is a quick list of how to stock the basic starting kit for hookah tobacco:
Al Fakher 50g Cartons - Top 20 Best Sellers
Al Fakher 250g Tubs - Top 10 Best Sellers
Starbuzz 100g tins - Top 20 Best Sellers
Starbuzz 250g tins - Top 10 Best Sellers
Fumari 100g Pouches - Top 20 Best Sellers
Make sure your stock is deep enough that you don't sell out of the certain flavors before your next order. You will find that your top 2 or 3 flavors will sell 10X as fast as your 8th, 9th and 10th best sellers. You need to adjust or expand your selection as you go, picking up new flavors and dropping the dead inventory that never sells.
Creating a Hookah Destination that Draws Customers from Across Town and Beyond
Now, if you want to create a real hookah destination that sucks in customers from the wider area, and generates a ton of repeat business you are looking for a serious selection. We are talking about a real specialty store that has all of the basics and beyond, but also carries the unique flavors and brands from small batch manufacturers that you just can't find at most retailers, and if gives your customers a reason to go out of their way to only shop at your hookah business. I can compare this to beer sales, since it's something I relate to. Every corner store is offering Budweiser (or Lone Star in these parts), so there is no reason for me to go out of my way to pick it up. But when I am feeling fancy or want to try something new, I need to go to a larger liquor store to be wowed by the dozens of micro-brew and specialty beers when I actually want to enjoy the taste of my beer!
First, we want to look at what will make your store special. Carrying the small batch, independent, American made shisha brands will add variety and authority to your store. Brands like Ugly, Trifecta, Azure, Haze, Romman, Nirvana, Alchemist and Pure are less widely available, even though most hookah afficionados will tell you the quality and flavors are so much better. We don't expect you to go all out with with every brand, but to create a true hookah powerhouse you should have 5 or more of these independent shisha labels in your store. You will need to adjust the flavors, sizes and maybe expand the brands as your sales and customer base grows. The good news is that these brands are more likely to offer fewer flavors and size options, so it's much easier to inventory all if not most of the entire catalog.
Now you need to get all the brands we discussed earlier for retailers who want a tighter selection of the best selling national brands, but we recommend expanding from 10 flavors to 25. The visual effect of having what looks like everything can be very powerful. It tells your customers that they are in the right place, you know what you are doing, and they should just forget about shopping anywhere else. Earlier we recommended the big 3 national shisha brands, but if you want to be boss of Hookahtown we think you should consider all of the top 5. We added Fantasia and Social Smoke to the mix, because they have been industry staples for over 10 years and have big name recognition.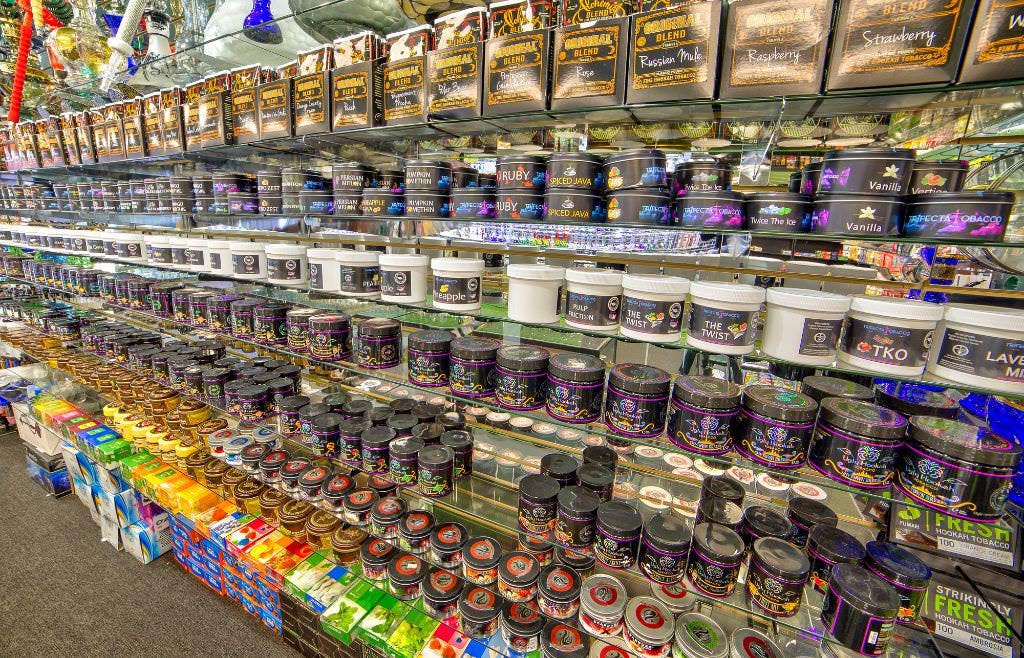 This retailer in Las Vegas, AA Hookah Pipe and Vape, has fully committed. As you can see, they stock over 10 brands of hookah tobacco and hundreds of flavor options in this one picture. If you want to attract customers from far and wide that want the biggest and best selection, you have to go all in. It's a bigger commitment, but your vast inventory will create a lot of word of mouth and referral business that is priceless!
To sum up, here is a minimum list of how to stock hookah tobacco for a true hookah oasis that will attract hookah smokers from across the state. This is a guide to get started, but your customers and sales reports will tell you where to expand and contract your offering to maximize your ROI in hookah inventory.
Big 5 Commercial Shisha Brands
Al Fakher 50g Cartons - Top 30 Best Sellers
Al Fakher 250g Tubs - Top 20 Best Sellers
Starbuzz 100g tins - Top 30 Best Sellers
Starbuzz 250g tins - Top 20 Best Sellers
Fumari 100g Pouches - Top 30 Best Sellers
Social Smoke 100g Tins - Top 30 Best Sellers
Social Smoke 250g Tins - Top 15 Best Sellers
Fantasia 500g Cartons - Top 25 Best Sellers
Fantasia 100g Jars - Top 20 Best Sellers
Fantasia 200g Jars - Top 15 Best Sellers
Small Batch Brands (Pick 5 or more varieties with at least 10 flavors and expand from there)
Ugly Tobacco
Starbuzz Vintage or Serpent (dark leaf tobacco)
Trifecta
Al Waha
Azure
Romman
Tangiers
Pure
Alchemist
Haze
Nirvana