Fumari Lemon Mint Shisha Flavor Review
Lemon Mint Fumari Hookah Tobacco Lemon Mint may sound like a pretty straight up flavor, but Fumari Lemon Mint has a special kick that so many people love...
Lemon Mint Fumari Hookah Tobacco
Lemon Mint may sound like a pretty straight up flavor, but Fumari Lemon Mint has a huge fan following and we're here to tell you why! Fumari took lemon mint and amped it up 1000%, delivering powerful minty goodness blended with a delightfully bright yet smooth lemon punch. This flavor reminds us of a popular lemon candy layered with a luscious cooling mint, making Fumari Lemon Mint perfect on it's own, and in mixes. We couldn't wait to get this to the mixology lab, and we know you'll love it too. Sound too good to be true? Pick up some Fumari Lemon Mint and try it for yourself!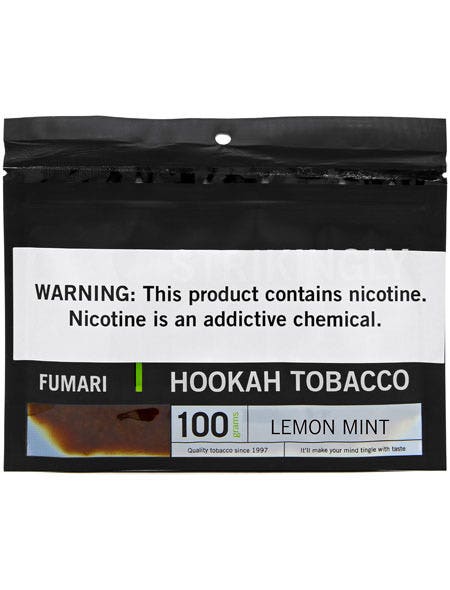 Mixology Lab Results
As huge lemon fans ourselves, our mixology lab was buzzing with enthusiasm and ideas for this strikingly fresh Fumari flavor!
Sour Swirl: Fumari Lemon Mint 50% / Fumari Sour Cherry 25% / Fumari Purple Grape 25%
This mix brings in the best flavors in the hookah-verse: sour yet sweet, powerful yet light, with a touch of mint.
Citrus Burst: Fumari Lemon Mint 30% / Fumari Guava 30% / Fumari Tangelo 40%
This mix reminds me of those little square candies... The orange one! Power up the orange flavor with an orange head for insane fruity clouds!
Tropical Chill: Fumari Lemon Mint 40% / Fumari White Peach 30% / Fumari Aloha Mango 30%
Say hello to tropical heaven in a bowl! Luscious tropical fruits and zesty mint pair perfectly in this mix. Mahalo!
Fruit Snacks: Fumari Lemon Mint 40% / Fumari Mandarin Zest 60%
I have smoked SO much of this mix. Creamy, minty, insanely fruity. This blend is the perfect fruity treat.
Make sure to give your Fumari shisha a nice mix before you slap it into your hookah bowl- you want all that juicy goodness for those thick, fresh clouds!
Fumari Lemon Mint is available in 100g pouches with a resealable lip (they even come in 10 pack display cases!), as well as kilogram pouches, popular for commercial use.
Are you looking for Fumari wholesale? Fumari Purple Grape is available in 100g Pouches great for Hookah Retailers, and Kilo Pouches for all you Hookah Lounges. Trust me, you'll need the Kilo!