Fumari WGB Shisha Flavor Review
While the name and packaging got a facelift, Fumari WGB remains the fan favorite classic we all know...
WGB Fumari Hookah Tobacco
While the name and packaging got a facelift, Fumari WGB (formerly known as White Gummi Bear) remains the fan favorite classic we all know and love. This bear of a flavor brings bright pineapple and sweet candied lemon tones together in a way we all remember from one of our favorite gummy snacks. Inhale tropical candied goodness, exhale sweet, citrusy clouds. This top-selling Fumari flavor is a staple for every retail shop and hookah lounge. Once your customers get their paws on it, they'll be roaring for more. WGB is a blonde leaf tobacco, making it perfect in flavor and buzz for hookah newbies, hookah pro's, and anyone looking for "something good".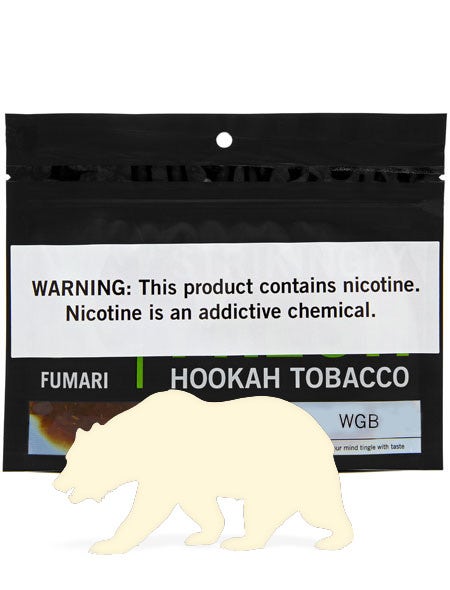 Mixology Lab Results
Our mixologists LOVED concocting these irresistible house blends with WGB.
Gummi Surprise: Fumari WGB 50% / Fumari RGB 50%
An instant classic! Gummi surprise is the perfect mix for all your candy loving regulars. Insanely easy and insanely tasty, this mix of pineapple and cherry candy is sure to be a crowd pleaser.
Icebreaker: Fumari WGB 30% / Fumari Mint 30% / Fumari Guava 40%
This icy surprise mix brings in all the flavors you're craving: delightfully sweet, surprisingly fruity, and intensely minty. For a sweeter sesh, pump up the WGB to 40% and sprinkle in just a little less Guava.
Tropi-cold: Fumari WGB 30% / Fumari Orange Cream 30% / Fumari Citrus Mint 40%
This cirtus-y tropical fusion brings in a creamy blend of smooth vanilla, bright citrus, cooling mint, and candied goodness, all packed into one bowl!
Fumari shisha smokes great with foil or your favorite HMD! Our office favorite with Fumari is the Kaloud Lotus Plus.
Fumari WGB comes in 100g pouches with a resealable lip, conveniently available in packs of 10, as well as the monster kilogram pouches. Fumari pouches are heavy duty and can even stand up on their own for easy storage and use.
Are you looking for Fumari wholesale? Fumari WGB is available in 100g Pouches great for Hookah Retailers, and Kilo Pouches for all you Hookah Lounges. Trust me, you'll need the Kilo!