Hookah Maintenance and Cleaning Tips For Hookah Lounge Owners
There are many aspects to ensure that you are running an effective, successful business. These are just a few best practices reminders to help you stay ahead of the curve...
With the world putting such an emphasis on hygiene these days we thought we would do our best to give you a few tips and tricks to help keep your customers feeling safe and comfortable in your Hookah business. Having a clean lounge with clean Hookahs will go a long way to not only reassure the safest Hookah experience but also give your customers the best session possible to keep them coming back.
What Supplies will I need?
Starting off you will need a to have the right supplies. We really like the Bling Cleaning Solution as it has crystals are able to really get a nice deep clean in your Hookah stems and bases. You will also want to make sure you have a stem and base brush which will be much more effective than simply using water.



Once you have the right supplies. It's time to roll up the sleeves and get this Hookahs clean.
How to Clean the Hookah Stem?
There are quite a few ways to get this done depending your water access, and sink situation but we will take a look at the basic mechanics to get the Hookah stem clean.
Step 1. It's good to start by running some water through the stem.
Step 2. Next, we like to add a little of the Bling Solution or even a little dish soap if that is all you have on hand to the Stem Brush. After doing that we give the stem a good scrub with the brush. If you have larger Hookahs you may need to flip the Hookah over to make sure the Brush covers the entirety of the stem.
Step 3. After giving it a good scrub, we run water through the stem to get out all the cleaning solution and any particles that have been scrubbed off. That's all there is to it! We recommend doing this after each customer to ensure a fresh clean experience every time.
How to Clean the Hookah Base?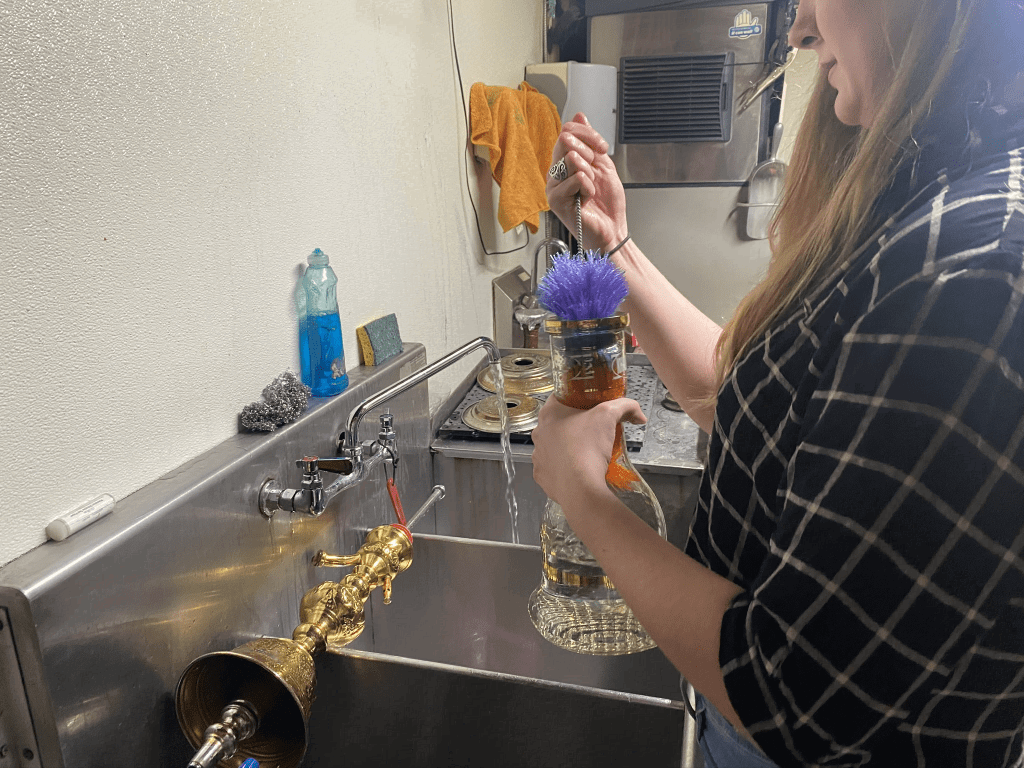 There are a lot of different base sizes and shapes, but the cleaning process stays the same.
Step 1. Dump the water out from the last session
Step 2. Next, we add a little water and cleaning solution to the base. This can be the Bling solution, dish soap, or even dish washer crystals.
Step 3. After you have a good mixture of water and solution in the base you just have to insert the Base Brush and give it a good scrub. Getting everything off the bottom of the base can be a bit tricky but it's good to take time and get as much scrubbed as you can.
Step 4. After giving it a good thorough scrub, simply rinse the base out very well before filling it up for the next customer. Like the stems, it is good to clean the base after each customer as well.
How to Clean Your Hookah Hoses?
As far as the hookah hoses go, you'll want to first make sure that the hoses you are using are in fact washable. Most Mod style and Mya hoses are NOT going to be washable. Non-washable hoses has a metal coil inside of them, and once they get wet, they will begin to rust and become unusable. You'll want to go with something such as a Ripper Hose, Gladiator Hose, Galaxy Hose or Aluminum D Hose if you'd like to be able to clean them out. These hoses use silicone tubing and it is very durable and totally washable without any kind of degradation. We do not recommend sticking any sort of brush into the hose tubing as this can only really damage the tubing.
Step 1. Run warm water and if possible a touch of lemon juice through the hose. You can trap a little of the mixture in the tubing, cover each end and run the mixture back and forth to ensure it touches all areas.
Step 2. Once this has been done you'll need to dry the hose. You can do this quickly but blowing a Hookah starter pro or air mattress pump air through the hose. If time isn't important, you can hang dry the hoses by draping them over something so that both hose ends are pointed down.
Step 3. Make sure to scrub down the handles with a disinfectant wipe as well.
Bonus Step. With silicone hoses with Metal handles, you can use a Stem brush and clean them like you would the Hookah stem to get an extra deep clean.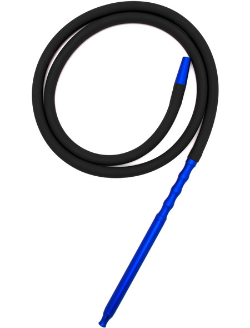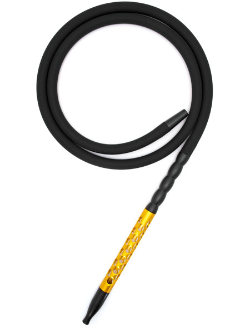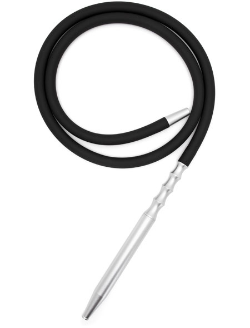 It's a smart idea to designate certain hoses to only be used for stronger flavors like Double Apple, Pan Rasna, and others. This way there is less worry of "ghosting," a term used for flavors that linger in the hose so strongly that you can taste them during your future sessions. If you want to go a step further, you can even color code your hoses to different flavor groupings. For example, gold handle hoses for citrus, blue for any berry flavors, silver for mint, black for floral, etc.
It's also not a bad idea to have some Disposable Hookah hoses on hand as well. Having the option for a customer to pay a little extra for a brand new single use hose will be an extra service that will set your lounge apart from the rest. You can check out the Single use Disposable hoses here Al Fakher Disposable Hoses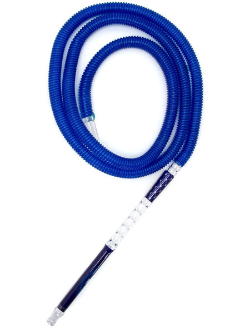 If you have specific questions related to your lounge/hookahs, please feel free to contact us. Happy smoking!