Top 20 Best Selling Azure Shisha Tobacco Flavors - Gold Line
Azure Tobacco has one of the most diverse flavor lists of any shisha out there. This relatively new brand of hookah tobacco is surging in popularity, so we list the top selling flavors in 100 gram and 250 gram pouches. The best selling overall flavor is...
Azure Tobacco has been a growing segment of the shisha market for a few years now. They started with a few unique flavors and have expanded their range to be one of the most exotic and exclusive flavor line ups in the industry. As their flavor list has grown, so has their fan base of loyal consumers. Hookah smoker's have warmed up to Azures rich flavor and just about everyone who tries it wants to try another and another to experience wide variety of flavors. We are starting to see Azure pop up in both hookah lounges and retailers across the country as proprietors look for ways to differentiate themselves from the pack by offering something new. Azure shisha tobacco has 2 lines to choose from and today we are talking about Azure Gold, their lighter line of sweet Virginia gold leaf tobacco that is easy to load, full of flavor and available in 100g, 250g and 1000g resealable pouches.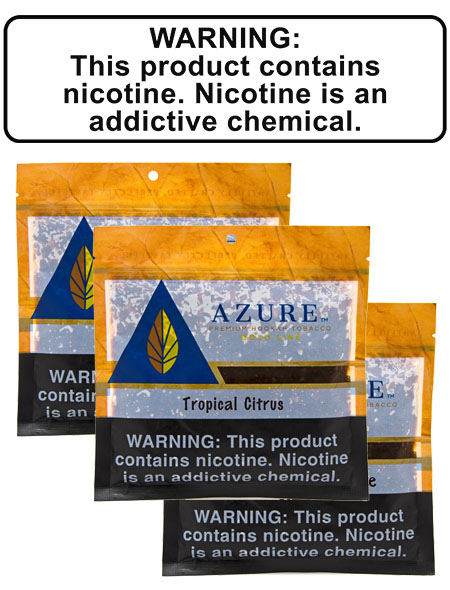 These flavor rankings were updated on November 4th, 2020 based on our sales data.
Top 20 Best Selling Azure Gold Hookah Flavors in 100 gram
1. Lychee
2. Lemongrass
3. Lemon Muffin
4. Mango Cheesecake
5. Grow a Pear
6. Winter Rose
7. Cinnamon Cookies
8. Royal Raspberry
9. Cool Cucumber
10. Royal Queen
11. Apple Cider
12. Berry Mania
13. Viva la Horchata
14. Dubai Apple
15. California Blue
16. Blueberry Muffin
17. Chai Masala
18. Tropical Paradise
19. Rio Mint
20. Strawberry Passion
The Best Selling Azure Gold Shisha Flavors in 250 gram
1. Lychee
2. Lemongrass
3. Winter Rose
4. Lemon Muffin
5. Cool Cucumber
6. Mango Cheesecake
7. Carolina Peach
8. Blueberry Muffin
9. Cinnamon Cookies
10. Chai Masala
11. Apple Cider
12. Royal Mango
13. Berry Mania
14. Chocolate Cake
15. Winter Peach
16. Winter Orange
17. Winter Lemon
18. Tropical Paradise
19. Royal Queen
20. Coco Mania
Azure is available in 1000g kilogram pouches that you can use in your hookah lounge, so as soon as we have a good data set to recommend the best sellers, we will update this blog.
Have you tried Azure shisha in your store or lounge or personally? What are your favorite flavors of Azure? Let us know in the comments below.