Hookah Buying Guide For Your Lounge or Cafe - Part 1
Your lounge looks great, you have a wide variety of available shisha flavors, and your customers are...
Your lounge looks great, you have a wide variety of available shisha flavors, and your customers are ready to smoke! Now...what hookahs do you use? This can be a tricky question for lounge owners; you don't want to sacrifice quality for spectacle, but you want to deliver an aesthetically memorable experience. As a previous lounge owner, I have a few thoughts on the subject. Here are the top features and quality indicators to consider when it comes to purchasing hookahs for commercial use.
Quality and Construction to Look for in Commercial Use Hookahs
Stability - Hookahs are bound to fall at some point, so pick something that is stable. This will help minimize accidents and hassles during operating hours.
Look for a hookah base that is wide at the bottom.
Ditch a hookah that is top heavy or disproportionate.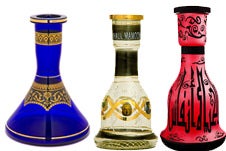 Durability - Whatever hookah you go with will be put under the stress of daily usage. Constantly plugging hoses into your hookah puts a lot of stress on the hose adapter, and if that breaks the hookah no longer functions until you can replace the shaft. In general, if it feels heavy for its size, that is a good sign.
You want a hookah that has a well built shaft
Avoid shafts that unscrew in to multiple pieces, it will just be problematic in the long run because the threading will strip over time.
Look for connection strength between the hose adapter and the shaft. If the hose adapter is welded on, make sure that it has a strong weld
Screw-in hose adapters are hit or miss depending on brand. Pharaohs Hookahs have pretty dependable screw in adapters, but they are the exception rather than the rule.
Ideally, look for a hookah model where the shaft and the hose connector are one piece (no welds, no male/female parts). This means it was made from a mold and manufactured as one piece. (Nammor, Pharaohs or Khalil Mamoon Hookahs)
Hookah Hoses - Washable hoses with wide gauges for maximum air flow are best for long term use. Heavy duty silicone hoses have taken over this market and we highly recommend them.
High quality; preferably with a wide diameter hole running end to end(such as the D-hose, Droid, Mya Silicone, Nammor, or other Egyptian style hoses)
Clean and clear out any debris and/or manufacturer defects (sometimes you'll find glue or plastic blocking the air flow).
Check for leaks. Block the air with your thumb on one end and blow through the other, see if you hear or feel air leaking through the hose. Always blow FIRST then inhale, sometimes air escapes when blowing out through the hose/hookah but not when you inhale. As long as there is no major air leaking while you try to inhale and they feel at least 90% sealed, you're good to go.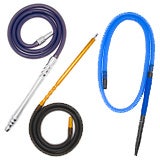 Multiple Hosed Hookahs - 95% or more of hookah lounges offer single hose only, and in general this is the best option. Multiple Hose hookahs may have a function in some lounges, but in the long run tend to be overly complicated and not often used.
If you absolutely must, you can keep one or two around, or have the ability to add an adapter to the single hose hookah if need be, but I strongly advise going with single hosed hookahs.
These seem exciting at first, but they take much more time, effort, and money to maintain and often do not generate any extra revenue. Why rent a 3 hose when you could rent 3 Hookahs?
Single-hosed hookahs will save you a lot of money in the long run and make you more money in the short run as well as giving your customers a better smoking experience.
Truth be told, single hose hookahs just smoke much better. Less areas where air can leak, means a more consistent session every time.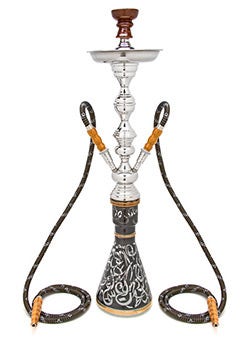 Maintenance and Cleaning-
Go with something more simplistic in design and user friendly. You have a lot of hookahs to clean, and the less removable parts, the better. A lot of the ornate decorative types of hookahs have this issue.
Try to get a model of hookah that has more or less standardized replacement parts in case of future repairs.
Modern Vs. Traditional Style Considerations for Hookahs in a Hookah Lounge
In our experience over the last 15 years, we have found that most lounges aesthetic style will fall into 2 categories, traditional Egyptian/Turkish/Moroccan style hookahs and decor or they tend to be more modern, European style hookah lounges. There are not any major advantages to going one way or the other, this will come down to personal preference and style of your lounge.
Modern hookahs tend to have smoother lines, more exotic glass bases and usually come with stems that can be adapted with multiple hose ports if desired. These hookahs tend to be more compact than traditional Egyptian hookahs, so the work well for lounges that put hookahs on tables or bar tops..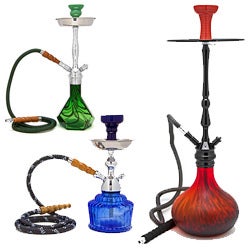 Traditional hookahs are typically Egyptian models from brands like Khalil Mamoon, Nammor, or MEG. Traditional hookahs are hand-made pipes and usually stainless-steel, though other metals or oxidized colors are often used to add some extra visual appeal. Most lounges using traditional hookahs are using models between 28-36 inches tall and almost exclusively as a single hose hookah because the stems are not upgradable to multiple hoses. These hookahs are typically served on the floor, so the bowl is at waist height.