Othmani Zanzibar Double Apple Shisha Flavor Review
Why Zanzibar Double Apple is the Best Two Apple Shisha flavor to come out in 50 years. Learn more about Othmani and get a few new shisha mix recipes...
Why Zanzibar Double Apple is the Best Two Apple Shisha
First, lets address the fact that the global sales of this flavor are dominated by the 2 oldest and biggest names in tradition shisha, Al Fakher and Nakhla. So why take poke the bear, and take on the biggest names and flavors in the industry. The answer rests in the fact that current heavyweights have done virtually nothing to improve or update the product for decades. This new generation of shisha smokers have grown up in a market place with much more competition between brands. This leads the next generation of hookah smokers open to new takes on tradition. They want it authentic, but updated. They want to enjoy the flavor as much, if not more than, the traditional ritual of hookah smoking.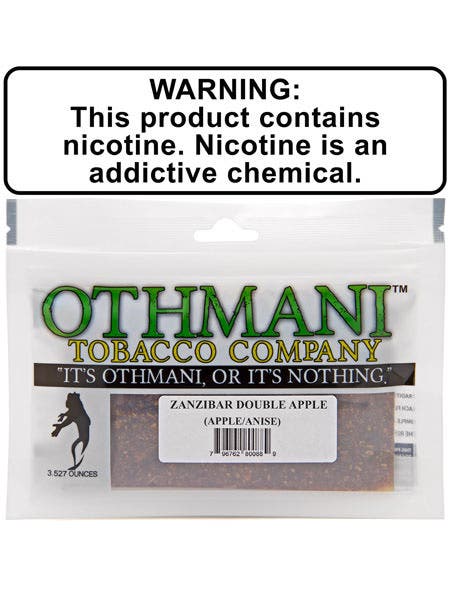 After years of mixing custom blends of Double Apple, the shisha chefs from Othmani created a new strain of Two Apple shisha that absolutely checks all the boxes of a robust, traditional Apple with Anise, true 2 Apple. But the flavor has a modern refinement that allows the smoker to enjoy a wider profile of the anise and licorice flavors. The shisha has a natural sweetness that gives Zanzibar Double Apple gives it a much more enjoyable mouth feel and overall better flavor. (IMHO) When enjoying this Double Apple, I like to imagine the Arabic Traders haggling the spice markets of East Africa under the watchful eye of the Sultan of Zanzibar.
Whether your customers smoke in your lounge or purchase for home consumption, I highly recommend this deliciously innovative blend of Zanzibar Double Apple made by Othmani Tobacco.
Serving Zanzibar Double Apple in a Hookah Lounge
I recommend offering this a new premium Double Apple option on your menu. 99% of Double Apple is made by the lowest priced shisha on the market. These customers have spent a long time getting abused by a flavor because of they only knew it as low cost, high volume flavor. So now, you have a premium option that can deliver a conventional double apple session, but with better flavor and cloud volume. Give Zanzibar Double Apple a chance in your lounge, and if it's not making you more money per bowl than your old dusty Two Apple that your grandpa used...let us know.
From the Hookah Mixology Lab
Double Apple flavors are notorius for not being the best mixers. You tend to love these flavors or you dont. But here's a few you can add to your premium section of Othmani Flavors:
Zanzibari Dawn - Straight up 50% Zanzibar Double Apple and 50% Marrakesh Mint. This is a classic mix that adds some bright freshness to the bowl. Its easy to tilt 60/40 in either direction if you prefer either flavor to be more dominant.
Zanzibellon - Start 60% Zanzibar Double Apple, 20% Marrakesh Mint and 20% Izmir Mellon. You can do a fully mixed blend, or if prefer a more layered approach, keep your Bottom layer Double Apple, a layer of mint and top with the Melon. This will give you a sweet melon and mint introduction to a hearty double apple session.
Shop for All Othmani Shisha Tobacco flavors for your hookah lounge or retail smoke shop and learn more about Othmani here.